In recently years,we noted that more and more birders who not only want to see the the most possible Chinese birds but also would like to spend more time at each spot to en sure can make the nice pictures.





Normally this kind of clients,can not have that many chance if take a scheduled tour.

So we would like to suggest take a tailor made Photographic Tour and we will bring you to the right spot and help to to get the best chance to photo the birds.
In the last couple of years,there coming many feeding stations or we call "hides" running by local farmers where you can have very good chance to get the perfect images.
This is not only a good system to protect the birds but also bring more income to local people.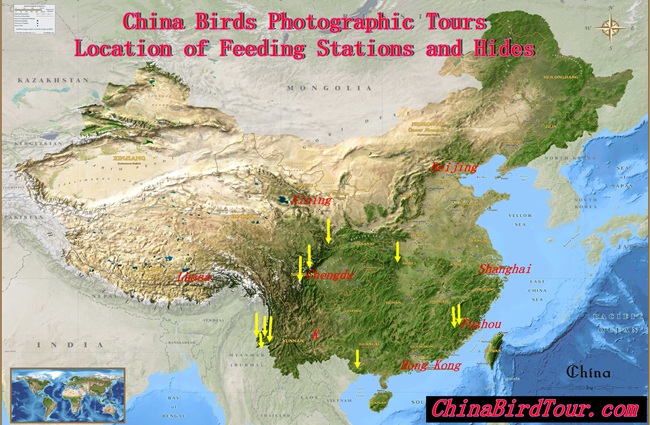 Most hides located at southwest of China,mainly at Gongligong Mountain of Yunnan province and Sichuan province.
As you know,SW China has the most abundant in biological resources, Yunnan and Sichuan province rank the first biodiversity richness in China.

We arranged several this kind photographic tours to these sites and here suggest an itinerary/route as follow:
Day 1 fly into China and fly to Kunming city,the capital city of Yunnan province,and from here we take a short fly to Baoshan
Day 2-5 photo at hides (has about 20 hides with about 200 species birds located at different location and altitude and habitat)
Day 6 drive to Yinjiang area
Day 8-10 Photo at other about 10 hides for another about 50-80 different birds
Day 11 fly back to Kunming where you connect your international flight back home
Or Travel north to Sichuan for about 8-10 species of pheasants
Day 11 fly to Chengdu
Day 12-15 Drive west to Kangding for photo
Day 16-18 Drive back to Chengdu and carry on to Wenchuan for photo
Day 19 back to Chengdu
Day 20 international departure
Best season is January to April.




Why not have a look of the photos made by Tang Jun at his Flickr site?