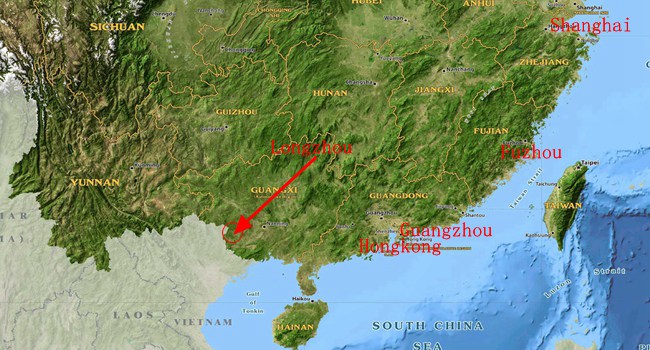 Invitation Letter of
The 3rd International Birding Race in Longzhou China 2019
Dear Mrs. / Mr. Photo by Weidong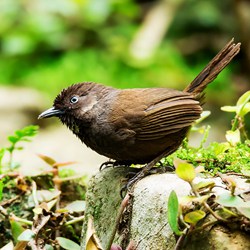 You are warmly welcome to participate the 3rd International Birding Race organized in Longzhou,Guangxi province, P.R. China, between 6-10 March 2019.
Longzhou is a world famous birding site because of the Nonggang Babbler (Stachyris nonggangensis), which was first described in 2008 in the karst habitat at Nonggang National Nature Reserve. The best season to visit is November to the next April.
In order to publicize and protect the diversity of endemic birds of Longzhou County, Guangxi, we advocate that human love nature and protect biodiversity, and Longzhou County "The World Heritage Zuojiang, the Secret Environment of Nonggang, the Cross-border Red Tourism" characteristic tourism brand, and promote the harmonious development of Longzhou County eco-tourism. We successful held the 1st & 2nd Longzhou International Birding Race in spring of 2017 & 2018. A total of 152 bird species were reported within 36 hours during the 1st race and 198 bird species were reported within 60 hours during the 2nd race.
The 3rd Race will follow the same rules of the 2nd one, and 16 teams will be invited to join the race. Each team will have four members, and you can apply to be a participant individually or together with others, the organizer will help you to form a team.
The cost during the race including meals, accommodation and transportation will be covered by the organizer, the cost of the participants on transportation between departure city and Nanning, the capital city of the province, shall be covered by yourselves.
Please complete the form below and send back to info@chinabirdtour.com(English) or dtbirdwatching@163.com(Chinese) before February 10th, 2019.
Plus with your passport copy to arrange the invitation letter to obtain the Chinese visa.
Full Name:
Nationality:
Passport Number:
Date of Birth:
Organization & Job:
Email address & phone number:
Thanks and looking forward your participating.
If you have any questions, please feel free to contact us through the said E-mail address.
Event Schedule
Day 1 March 6th
Airport pick up at Nanning, Registration at Longzhou, opening ceremony
Day 2-4 March 7-9th
60 Hours Birding Race
Day 5 March 10th
The award event & closing ceremony. Airport drop-off at Nanning.

Longzhou County People's Government
1 August 2018
China Bird Tour is authorized to be the pointed agent to do the event notice with foreigner participants and provide the post race tour.We carefully designed a birding tour to nearby Yunnan province after the race.
Please click here to find more details.


Offical Invitation Letter in Chinese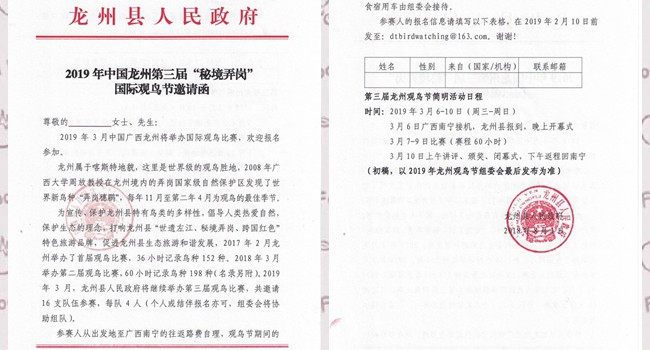 Offical invitation letter in English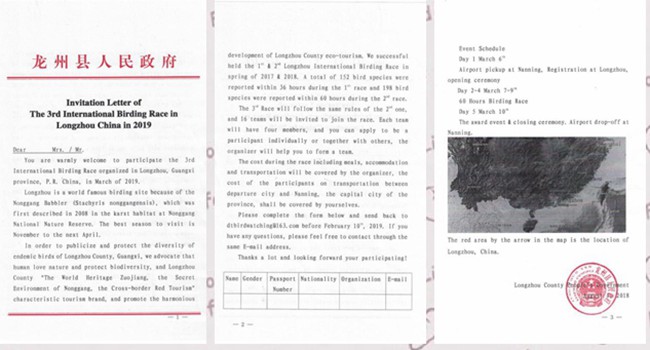 198 species were reported during 1st & 2nd Racing in 2017 & 2018