Central China for mammals viewing




This area (Central China) include northern part of Sichuan province and southern part of Shanxi Province with Minshan Chain Mountain and Qinling Chain Mountain where are the main habitate of Giant Panda.

And other mammals here include: Takin,Red Panda,Golden Snub-nosed Monkey,Pallas's Cat, Chinese Mountain Cat,Blue Sheep,Leopard Cat,Asian Black Bear,Sambar,Tufted Deer,Reeve's Muntjac and recently reported Snow Leopard but which is very difficult.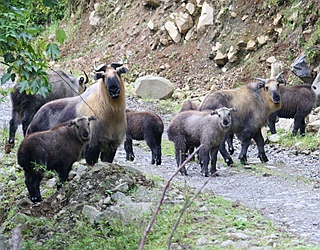 Each March/April are the perfect time for mammals viewing and on the other hand,it is the right time for more than 10 species of resident pheasants displaying.
Recently on 12 April 2017,a Giant Panda was saw in the tree and 2 more was heard at Tangjiahe.



(Photo by Mr. Ma Wen Hu fromTangjiahe NNR)
So combine a tour mammals viewing & pheasants birding looks a very good choice.




Tour can be suggested as follow:
Day 1 arrival at Chengdu (direct from Europe/US,or via Beijing or Shanghai)
Day 2-4 Drive to Labahe NNR for Takin,Red Panda,Sambar,Rhesus Macaque,Tibetan Macaque plus Temminck's Tragopan,Lady AM Pheasant
Day 5-6 Stay at nearby Longcanggou NNR for Red Panda,Red and White Flying Squirrel plus Temminck's Tragopan,Lady AM Pheasant
Day 7 drive to Tangjiahe NNR
Day 8-9 Tangjiahe NNR for Blue Sheep Reeve's Mountjac,Golden Snub-nosed Monkey and high possibility for the Giant Panda
Day 10 drive to Qinling area
Day 12-14 drive into a local NNR for the Giant Panda,Golden Snub-nosed Monkey, plus Crested Ibis,Golden Pheasant
Day 15 drive back to Chengdu
Day 16 departure back




Also there is another route at Qinghai & Tibet Plateau for mammals/birds:
Day 1 fly into Xining via Chengdu,Beijing or Shanghai
Day 2 Drive to Kor Kor Nor Lake for Goitered Gazelle and several kind of Pikas
Day 3-4 Stay around Chaka for endemic birds and mammals
Day 5 drive to Er La Shan pass for Pallas's Cat,Tibetan Fox,Wolf and birds
Day 6 Er La Shan Pass again
Day 7 Drive to Maduo for Lynx,Tibetan Ass,Foxes and Wolf
Day 8 One day around Maduo
Day 9 drive to Yushu after last mammals looking at Maduo
Day 10-11 Around Yushu for Snow Leopard,White-lipped Deer
(from here you can choose fly back to Xining or Chengdu)
Day 12 Drive to Qumalai
Day 13 Drive to Budongquan and look for mammals en route include: Tibetan Antelope
Day 14 one full day inside Wild Yak Valley, stay at Budongquan
Day 15 one more day inside Wild Yak Valley for Pallas's Cat,Wild Yak,Argali, then carry on to Golmud
Day 16 fly back to Xining where fly to Beijing or Chengdu